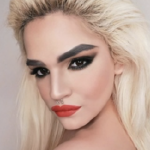 Cristina Rodríguez
Cristina Rodriguez is a Colombian social communicator-journalist, proud trans woman, transfeminist and defender of human rights. She is currently Coordinator of the LBTI Young Women's program of Fondo Lunaria, a counterpart of Inter Pares. Fondo Lunaria is a Colombian feminist organization that promotes and strengthens locally-designed initiatives for the political participation of youth as agents of change. The direct beneficiaries supported by Fondo Lunaria often face multiple discriminations due to their social class, gender, age, race/ethnicity (Afro-Colombian/Indigenous), sexual orientation/gender identity (lesbian, trans), and/or urban/rural origin. Cristina studied social communication-journalism at the University of Quindío. As a student, she transitioned and subsequently continued at the University of Quindío as a workshop teacher and later as a full professor, in the areas of photography, documentary production and social networks. She was the first trans professor at her university – a milestone in the institution. As a trans activist, Cristina has denounced abuses of the municipal administration and police directed against sex workers, mainly trans women, in the region of Colombia known as the Eje Cafetero.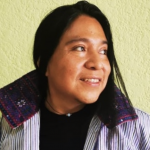 Fernando Us Alvarez
Fernando Us Alvarez is a Maya K'ichè Indigenous person, a survivor of Guatemala's civil war, and a sexual dissident. Fernando uses the pronouns she/he. For the past four years, Fernando has been working with the Pan American Development Foundation with responsibilities for supporting LGBTI groups in the Mesoamerican region (Mexico, Guatemala, El Salvador and Honduras). Prior to that, Fernando worked as a popular educator with UDEFEGUA – the Unit for the Protection of Human Rights Defenders – an organization that defends the political space for human rights organizations and provides support to human rights defenders under threat. In UDEFEGUA, among other responsibilities, Fernando was the liaison with feminist and LGBTI groups in Guatemala and throughout the Central American region, helping activists and organizations develop safety and security plans so they can significantly minimize the risk of attacks. From 2010-2013, Fernando served as Project Officer with Project Counseling Service (PCS), a regional Latin American organization, partnered with DNC Member Inter Pares. At PCS, Fernando worked on the Dignity Network Canada Global Advisory Board program dealing with issues of migration or "forced uprooting", connecting with grassroots groups throughout the "northern triangle" region and Mexico. She/he is a founding member of REDMMUTRANS – the Red Multicultural de Mujeres Trans (Multicultural Network of Trans Women), a grassroots group comprised in large part by Indigenous trans women from several rural departments of Guatemala. Fernando is also a member of REDNAS – the Red Nacional de Diversidad Sexual y VIH de Guatemala (National Network on Sexual Diversity and HIV of Guatemala).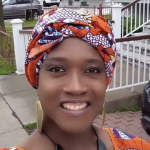 Hetera Estimphil
Hetera Estimphil, a 26-year-old trans Haitian woman and activist. Hetera is a psychosocial support worker, human rights educator and gender specialist. She is currently the President of a human rights organisation specifically for the promotion of LGBTI rights called Kouraj Pou Pwoteje Dwa Moun, located in Port-Au-Prince, Haiti.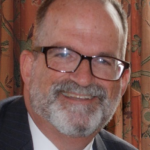 J. Ian Burchett
Prior to his retirement from the Canadian public service in April 2020, Mr. Burchett was director general for South East Asia, ASEAN and APEC at Global Affairs Canada based in Ottawa. During this period, he also headed the Government of Canada's Rohingya Crisis Taskforce supporting the work of the Special Envoy, the Honourable Bob Rae. Between 2012 and 2016, he was Consul General of Canada to Hong Kong and Macau. During this assignment, the NGO, Community Business recognized him for his leadership relayed to local and regional LGBTI issues. Mr. Burchett has served abroad as trade commissioner in Kingston, head of the Investment Promotion Program at the Canadian consulate general in New York City, counsellor (public and cultural affairs) at the Canadian embassy in Beijing, and minister-counsellor (congressional and legal affairs) and deputy head of the Washington Secretariat at the Canadian embassy in Washington, D.C. He also opened the Canadian consulate in Monterrey, Mexico. At headquarters, he has worked in divisions responsible for further advancing Canadian trade and economic interests with the Middle East and Gulf states, China, Taiwan and the Republic of Korea. In 1994, he received the Professional Association of Foreign Service Officers award. He has also received Public Service Awards of Excellence for support to the Government of Canada's response to the September 11, 2001, terrorist attacks, for the Canadian response to high profile consular emergencies in 2009, as a member of the Rohingya Taskforce in 2019 and in 2020 for his efforts to resolving the Canadian Filipino waste issue. Mr. Burchett has a BA Honours [Political Science], Queen's University, 1982 and MA [Public Administration], Carleton University, 1985).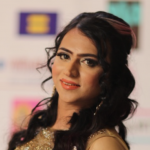 Jannat Ali
Jannat Ali is an MBA gold medalist Trans woman, who also has a performing arts research degree. She is the first transgender Artivist (Artist + Activist) and Executive Director of Track-T (Trans Lead Community based organization) working for Trans Rights ' advocacy and capacity building. She organized First Trans Pride in Pakistan in Dec 2018. She has successfully run a literacy program as an educator/consultant regarding basic education of transgender people by mobilizing and motivating the community members. She is a professional Kathak dancer with more than 4 years' experience and is one of the 6 transgender women who worked as an actress in a theater play "The Third Tune" based on real stories of transgender persons' lives which represent Pakistan in more than 20 countries. She has also performed in United States (Yale and University of Texas.) She has conducted lectures and workshops in Denmark and has sensitized 400 students and teachers on Gender diversity, norms and Performing Arts. She is the first Muslim transgender person to have conducted a Khutba during Friday prayers at the Queer Muslim Conference in South Africa and has also won Queen AIR 2015 and Best Activist 2016. She was one of the key people who presented the bill which has been passed and become Transgender Rights Law 2018 and now active part of Transgender Rights Bill which is going to be presented in Punjab Province. She is recently nominated for South Asia most famous award Hero Asia Award for Transgender Hero category.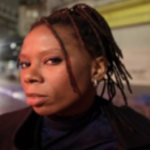 Joëlle Sambi
Joëlle Sambi was born in Brussels, Belgium and spent her early years there. Sheis a lesbian and afrofeminist activist, poet, writer. Sambi grew up in Kinshasa, DR Congo and only returned to Belgium in 2001 to study journalism at the Université Libre de Bruxelles. She is the author of several short stories including Je ne sais pas Rêver in 2003; Religion Ya Kitendi published by Gallimard (Mercure de France) and Prix du Jeune Écrivain 2005. She received the Jury Prize "Gros Sel" in 2008 for her novel Le Monde est Gueule de Chèvre, published by Biliki (Belgium 2007). Although she dissociates her origin and her writing work, the Congo, its history and contemporary Belgium are nevertheless present in her stories as well as in her projects. Author and LGBT feminist activist Joëlle Sambi writes and raises questions about identity, norm, belonging, she is caught between several languages and her writings bear the traces of this. She lives on the border and the strangeness of her language leads her writing to poetry, slam, she regularly publishes on her blog: "Solola Bien" . She is currently performing in the slam show "Congo Eza" for which she co-wrote the texts with Lisette Lombe (Slameuse/performer) and Badi (rapper) under the direction of Rosa Gasquet (Lezarts Urbains). Finally, she is currently making her first documentary on the LGBT community in the Congolese diaspora (DRCongo): Pinkshasa Diaspora. Joëlle is also currently Co-Chair of the EuroCentralAsian Lesbian* Community, a lesbian, feminist, intersectional network across Europe and Central Asia.
Kenita M. Placide
Kenita M. Placide is the Co-Founder and Executive Director of the Eastern Caribbean Alliance for Diversity and Equality (ECADE). ECADE, is an independent umbrella organisation, inclusive of organisations operating in the small islands in the eastern Caribbean from the Virgin Islands to Grenada. Placide has advocated around HIV and human rights inclusive of women, youth and LGBTI issues, for over 15 years and has worn many hats to bring attention and funding to the smaller islands in the eastern part of the Caribbean. The former Executive Director of United and Strong in St Lucia, Placide led the first presentation by United and Strong to Saint Lucia's Constitution Reform Commission in 2009 and to the Universal Periodic Review process at the United Nations in 2010. She is founder and organiser of the only Caribbean Women and Sexual Diversity Conference from 2013 to present. Placide is a member of the Regional Coordinating Mechanism of the Global Fund, the Americas Representative for the Commonwealth Equality Network, the Caribbean Advisor Emergency Response with the Freedom House Dignity for All LGBTI Assistance Program, and on the Management Committee of the Caribbean Forum for Liberation and Acceptance of Genders and Sexualities. Placide is a member of the UN Women LGBTI Informal Reference Group.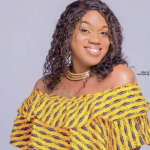 Melody Boateng
Melody Boateng is a trans Beninese woman human rights activist. Her activism journey began in 2009 when she joined an MSM (men who have sex with men) organisation. As a member. In 2012, she was appointed Communication and Information Officer at the within this organisation. She was then appointed Peer Educator on several projects including access to healthcare for all through awareness-raising activities. In 2014, she wanted to bring together the Trans community which was not engaged in MSM projects. This is how Synergie Trans* Benin was born. Syngerie Trans* Benin is an organisation that works and fights for the rights and development of Trans people in Benin. It has promoted the development of many Trans people through the use of training in self-esteem. Its ambition in activism is to be a leader and a reference model for all Trans communities across Africa and elsewhere in the world. Melody is passionate about music, make-up, fashion, reading and free will. Melody is a cheerful, open-minded, very dynamic person who is motivated to work and to be of service to anyone in difficulty.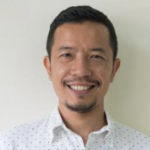 Midnight Poonkasetwattana
Based in Bangkok, Midnight has been Executive Director of APCOM since 2011. APCOM is an organization working with a network of individuals and community-based organizations across 35 countries in Asia and the Pacific. With years of experience working in multi-sectorial partnerships with governments, donors and the United Nations, Midnight particularly enjoys working with community groups and civil society organisations to build their capacity to better promote the rights of gender and sexual minorities. Midnight's work as APCOM Executive Director has been globally recognised through various awards and honors, such as Mark King's MyFabulousDisease.com's 16 HIV Advocates to Watch in 2016, "IAPAC 150" Pioneers in AIDS Response and AVAC's Omololu Falobi Award for excellence in HIV prevention research community advocacy. Besides his work in APCOM, Midnight is a member of various advisory and steering committees, including the global IDAHOT committee and the Freedom House's "Dignity for All"; as well as a civil society International Steering Committee member of the Robert Carr Civil Society Networks Fund. Before joining APCOM, Midnight worked for Purple Sky Network where he engaged with MSM and transgender communities in the Greater Mekong areas. He previously supported the implementation of HIV and human rights programmes in various countries throughout Asia and Eastern Europe as part of the International HIV/AIDS Alliance. Midnight obtained his Bachelor's Degree in Development Studies from the University of East Anglia in 2002 and completed his Masters in Globalisation and Development in 2009 at the School of Oriental and African Studies through the University of London.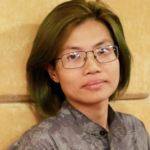 Nguyen Hai Yen
Nguyen Hai Yen (she/they) lives to ignite little fires. Fueled by an unrelenting passion for uplifting marginalized and disenfranchised communities, she works with grassroots queer leadership in Southeast Asia to elevate their position and advance their agenda towards a just, equitable, and inclusive world. Yen manages programs at the ASEAN SOGIE Caucus, a regional network of human rights activists in Southeast Asia, where she strengthens communities to cocreate an alternative regionalism and pioneer rapid pandemic-responsive programming. In her previous role as the Program Director at the Vietnamese LGBTQ national organization, she developed community-based projects bolstering local youth organizing and SOGIESC-inclusive education. Originated as an administrator of the oldest lesbian community in Viet Nam, her activism for queer women* includes organizing the first Global Feminist LBQ Women*'s Conference 2019 in South Africa as well as cofounding the ASEAN LBQ Women* Network and the Vietnamese Queer Women* Network. Yen firmly believes in critically deconstructing oppressive power hierarchies from within our movement. She finds home in mothering her seven rescued cats.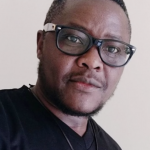 Pepe Onzeima
Pepe Onzeima is a transman, human rights activist and community leader who is currently Program Director for Sexual Minorities Uganda (SMUG). Onzeima has over fifteen years working experience in grassroots organizing, community led advocacy, human rights programming and management, grants writing and reporting, advocacy focusing on social justice and civil liberties at national, regional and international spaces. He is an international award-winning campaigner, educator and influencer working towards the attainment of equality and dignity for marginalized persons in Uganda and across Africa. Onzeima is an excellent communicator with the ability to listen closely, step back, analyse and work toward solving challenges. He has registered incredible accomplishments including being at the forefront of the co-founding of Uganda's LGBTIQ movement and its sustenance; being a plaintiff in various lawsuits local and international; demanding for civil liberties more significantly being one of the petitioners in the constitutional challenge that led to the annulment of Uganda's Anti-Homosexuality Act 2014, and being a proven leader in cross-disciplinary advocacy and state engagement on the rights of marginalised persons in Uganda. Onzeima brings a wealth of experience with regional and international bodies such as the African Commission on Human and People's Rights (ACHPR), the East African Court of Justice and, the Human Rights Council through the Office of the High Commissioner for Human Rights in Geneva.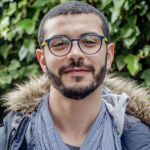 Soufiane Hennani
Soufiane Hennani is an independent activist for the rights of LGBTQI+ persons, a queer columnist, and a PhD student researcher in Health Sciences at the Faculty of Medicine and Pharmacy – Hassan II University of Casablanca, Morocco. Soufiane writes columns for the magazine PDREVUE, the LGBTQI+ South African magazine QR Passion, and independent Moroccan blog the Openchabab and other LGBTQI+ platforms. He is a Laureate of the Social Change Programme of the Arab Foundation for Freedoms and Equality in 2019, a volunteer with the Association for the Fight Against AIDS since 2016 and founder of the Elille training series for capacity building of LGBTQI+ people at this organization. Soufiane is also former vice-coordinator of the advisory committee of young people within Amnesty International Morocco (2018-2019) and contributed in 2017-2019 to the realisation of the Intersections platform to denounce the liberticidal laws in the Moroccan Penal Code, produced by the Heinrich Böll Foundation. Soufiane is particularly interested in issues related to Queer Moroccans and to masculinities in Morocco and as such he created in 2020 Machi Rojola, a platform alternative for rethinking and questioning masculinity(ies) in Morocco.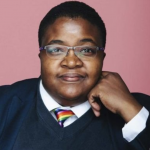 Steve Letsike
Steve Letsike is an activist, feminist, leader, mentor and human rights advocate. She is co-chair of the South African National AIDS Council (SANAC) as well as chairperson of the SANAC National Civil Society Forum. Steve is also Co-Chair of the National Task Team established by the South African Department of Justice to address hate crimes and gender-based violence affecting LGBTI people. Steve is a Founding Director of Access Chapter 2, a human rights organization that focuses on LGBTI people, women in their diversity and civil society's participation in public policy development processes. The name Access Chapter 2 is derived from South Africa's Constitution referring to the Bill of Rights: Chapter 2. Steve is also Vice-Chair of the Commonwealth Equality Network, a network of Commonwealth civil society organisations working to challenge inequality in the Commonwealth, based on sexual orientation and gender identity.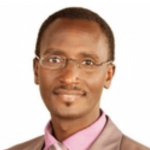 Thomas Ndayiragjie
Thomas Ndayiragije is a Burundian Human Rights Activist and has worked on LGBT rights issues, and access to health for most at risk populations in Africa. Thomas has taken part in many advocacy missions engaging government institutions, regional and international human rights mechanisms. Currently he is based in Ottawa, Canada and is actively engaged in resettlement support for most at risk refugees and LGBT individuals facing discrimination in their countries of origin. Thomas remains committed to increasing the awareness of social injustice, wherever it occurs. Thomas brings on board over 15 years of professional experience in areas of human rights campaigns, fundraising project management, and organizational development.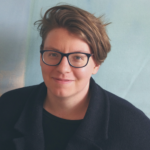 Veronika Lapina
Veronika Lapina is the Head of the North Caucasus division of the Russian LGBT Network, working to providing practical assistance and international protection to LGBT+ individuals abused and tortured in Chechnya and other areas of the North Caucasus. Lapina oversees LGBT Network's advocacy, international litigation, and field missions in relation to the crisis in Chechnya. In 2019 her work was recognised with the Front Line Defenders Award for the ECA Region. Lapina holds a Ph.D. in Social Theory. Prior to joining the Russian LGBT Network, Lapina was a Wayne Vucinich Fellow at Stanford University, California.