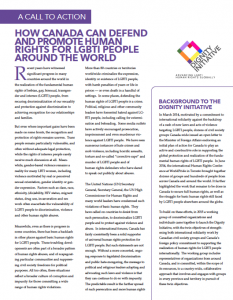 Recent years have witnessed significant progress in many countries around the world in the realization of the fundamental human rights of lesbian, gay, bisexual, transgender and intersex (LGBTI) people, from securing decriminalization of our sexuality and protection against discrimination to achieving recognition for our relationships and families.
But even where important gains have been made on some fronts, the recognition and protection of rights remains uneven. Trans people remain particularly vulnerable, and often without adequate legal protection, while the rights of intersex people rarely receive much discussion at all. Meanwhile, gender-based violence remains a reality for many LBTI women, including violence motivated by real or perceived sexual orientation, gender identity or gender expression. Factors such as class, race, ethnicity, (dis)ability, HIV status, migrant status, drug use, incarceration and sex work often exacerbate the vulnerability of LGBTI people to discrimination, violence
Meanwhile, even as there is progress in some countries, there has been a backlash in other places against basic human rights for LGBTI people. These troubling developments are often part of a broader pattern of human rights abuses, and of scapegoating particular communities and suppressing civil society freedoms for political purposes. All too often, these situations reflect a broader culture of corruption and impunity for those committing a wide range of human rights violations.
More than 80 countries or territories worldwide criminalize the expression, identity or existence of LGBTI people, with harsh penalties of years or life in prison — or even death in a handful of settings. In some places, defending the human rights of LGBTI people is a crime. Political, religious and other community leaders have fomented hatred against LGBTI people, including calling for extermination and beheading. Some media outlets have actively encouraged prosecution, imprisonment and even murderous violence against LGBTI people. We have seen numerous instances of hate crimes and mob violence, including horrific assaults, torture and so-called "corrective rape" and murder of LGBTI people and of human rights defenders who have dared to speak out publicly about abuses.
The United Nations (UN) Secretary General, Secretary General, the UN High Commissioner for Human Rights and many world leaders have condemned such violations of basic human rights. They have called on countries to desist from such persecution, to decriminalize LGBTI people and to protect against violence and abuse. In international forums, Canada has fairly consistently been a solid supporter of universal human rights protection for LGBTI people. But such statements are not enough. Without a more concerted, ongoing response to legislated discrimination and public hate-mongering, the message to political and religious leaders adopting and advocating such laws and violence is that they can continue to do so with impunity. The predictable result is the further spread of such persecution and more human rights abuses that destroy lives, families and communities, and that undermine respect for the human rights of all people, as well as impeding economic development and the full contribution of all members of society to their communities' and countries' well-being.
The Dignity Initiative recognizes the universality of human rights and the importance of the intersection of various human rights. LGBTI people face a range of violations of their human rights, including the rights to: life; security of the person; privacy; freedoms of expression, association and peaceful assembly; freedom from discrimination; freedom from arbitrary search, arrest and detention; freedom from torture and other cruel, inhuman or degrading treatment; and the full range of social and economic rights such as housing, employment and the highest attainable standard of health. An agenda to realize the fundamental dignity of the human person for LGBTI people reflects that LGBTI people need to be free not only from criminalization, violence and discrimination related to sexual orientation and gender identity or expression, but also to enjoy the full range of universal human rights that are the entitlement of all people. Such an agenda situates the realization of the human rights of LGBTI people within a broader agenda of sexual and reproductive health and rights, gender and racial equality, ending poverty, and other fundamental rights and freedoms.
The Dignity Initiative was developed through a process of open participation and input from both Canadian and international human rights advocates. This initiative will be a resource to Canadian organizations in supporting LGBTI human rights advocacy internationally, and a guide to securing a future commitment and action by Canada.

CALL TO ACTION SIGNATORIES
The 519 (Toronto)
Abortion Rights Coalition of Canada
Action Canada for Sexual Health and Rights
Action Positive VIH/sida
Africans in Partnership Against AIDS
AIDS Action Now!
AIDS Committee of Durham Region
AIDS Coalition of Nova Scotia
AIDS Committee of Newfoundland and Labrador
AIDS Committee of Ottawa
AIDS Committee of Toronto
AIDS Committee of Windsor
AIDS Community Care Montreal (ACCM)
AIDS Vancouver Island
Alliance for South Asian AIDS Prevention (ASAAP)
Amnesty International Canada
ARC International (Halifax)
Arc-en-ciel d'Afrique (Montreal)
Asian Community AIDS Services
Barrie Pride
Black Coalition for AIDS Prevention
British Columbia Civil Liberties Association
Buddies in Bad Times Theatre (Toronto)
Canadian AIDS Society
Canadian Association of Nurses in HIV/AIDS Care (CANAC)
Canadian Centre for Gender and Sexual Diversity
Canadian Gay and Lesbian Chamber of Commerce
Canadian Harm Reduction Network
Canadian HIV/AIDS Legal Network
Canadian Labour Congress
Canadian Lesbian and Gay Archives (CLGA)
Canadian Positive People Network
Canadian Public Health Association
Canadian Union of Public Employees (CUPE)
Canadian Treatment Action Council (CTAC)
Canadian Working Group on HIV and Rehabilitation
CATIE
Central Alberta AIDS Network Society
Chair for Research in Homophoia, University of Quebec at Montreal (UQAM)
Dignity Toronto Dignité
Elder Abuse Prevention Muskoka
El-Tawid Juma Circle Unity Mosques
ENDHateLaws
Egale Canada Human Rights Trust
Equitas
Fierté Canada Pride
Fierté Montreal Pride
Fondation Emergence (Montreal)
Glad Day Bookshop (Toronto)
Grandmothers Advocacy Network (Ottawa)
GRIS-Montreal
Halton Equity and Diversity Roundtable
Hamilton Health Sciences
HIV & AIDS Legal Clinic Ontario (HALCO)
HIV/AIDS Regional Services (Kingston)
HIV/AIDS Resources and Community Health (Guelph)
Injured Worker's Consultants Community Legal Clinic – Toronto
Interagency Coalition on AIDS and Development
Inspire Awards (Toronto)
Inspired Media (Toronto)
Institute for Sexual Minority Studies & Services (ISMSS) – Univ
ersity of Alberta
International Lesbian & Gay Association (ILGA) North America
Iranian Railroad for Queer Refugees (IRQR)
Ismaili Queers
Iqaluit Pride
John Humphrey Centre for Peace and Human Rights (Edmonton)
Kulanu Toronto
KyivPride Canada
Lake Country Community Legal Clinic (Bracebridge, Ontario)
LGBT+ Baie-des-Chaleurs – Association pour la diversité sexualle et de genre
LGBT Family Coalition Montreal
Mark S. Bonham Centre for Sexual Diversity Studies, University of Toronto
McLeod Group
Méta d'Ame (Montreal)
Metro Toronto Chinese & Southeast Asian Legal Clinic
Metropolitan Community Church Toronto
Metropolitan United Church (Toronto)
Moose Jaw Pride
My House Rainbow Resources of York Region
Northern AIDS Connection Society (Truro, Nova Scotia)
Okanagan Pride Society
OPSEU Rainbow Alliance Arc-en-ciel
Ontario Humanist Society
Our City of Colours (Vancouver)
Out on the Shelf (Guelph)
Oxfam Canada
PFLAG Canada Durham Region
Positive Living BC
Positive Space Network (Halton Region)
Positive Women's Network (Vancouver)
POWER Ottawa
Pride Calgary
Pride Centre of Edmonton
Pride in Art Society (Vancouver)
Pride PEI
Pride Toronto
Pride Winnipeg Festival
Pride at Work Canada
ProudPolitics Canada
QMUNITY (Vancouver)
Queen West-Central Toronto Community Health Centre
Queer Ontario
Queer Yukon
Rainbow Nursing Interest Group of RNAO
Rainbow Refugee Association of Nova Scotia
Reaching Out Winnipeg
RÉZO, santé et mieux-être
Safe Alliance (Labrador)
Salaam: Queer Muslim Community
Saskatchewan HIV HVC Nursing Education Organization
Saskatchewan Public Health Association
Sherbourne Health Centre (Toronto)
Social Action for Equality (Toronto)
Socialist Action
South Etobicoke Legal Community Services
Sudbury Community Legal Clinic
Support and Housing Halton
Toronto PFLAG
Trans Alliance Society (British Columbia)
United Church of Canada
United Food and Commercial Workers (UFCW) Canada
United Steelworkers
Vancouver AIDS Society
Vancouver Pride Society
Action positive VIH/sida
Women in Toronto Politics (WiTOpoli)
Women's Legal Education and Action Fund (LEAF)
Women's Legal Education and Action Fund (West Coast LEAF)
YouthCo (Vancouver)